Cali: a backpackers guide to Colombia's Salsa Capital
Lonely Planet describes Cali as the city that "will love you if you let it" – sadly, initially I didn't let Cali love me.
Oh dear! 😅
Cali is still quite a dangerous place. The inner city of Cali is slowly opening itself up to tourism, but apparently there is still a death a day on the outskirts. You'll notice in this article I haven't actually taken many photos as many backpackers choose to lock their valuables in the hostel. I heard countless stories of muggings on the streets of San Antonio.
Cali doesn't cater to tourists with the same enthusiasm as Medellín, Bogotá and Cartagena. Other than salsa dancing, there isn't really much 'to do' per se. Even Lonely Planet only references a couple of churches and a hilltop to see, whereas Medellín and Bogotá have pages of activities dedicated to them. Many backpackers choose to skip Cali in favour of more time in the other cities. If you have limited time, I recommend going to Cali only if you have an interest in Salsa music (which I do).
That being said, many backpackers who stay in Cali for a while (1 week or more) loved its authenticity. They feel as if they get to know the real Colombia and the real people, as opposed to the glitz of El Poblado in Medellín or the beauty of Cartagena old town – both of which cater easily to visitors. It took me 3 nights before I really started enjoying Cali myself. I finally let Cali love me! 🧡
How was getting into Cali?
Not great 🙄. I traveled to Cali via a night bus because I wanted to save money on a hostel bed. The time is 9-10 hours from Medellín (8 hours + Colombian mean time). If you book with Bolivariano buses, all of the good seats are downstairs and are first come first serve so ensure you book in advance. They're the seats you see in the brochure – plush with individual entertainment systems. Naturally I booked last minute 😂 so I got one of the seats upstairs that are significantly less comfortable. Firstly upstairs was a warzone – over packed with luggage all over the floor. To make matters worse the bus was completely full. Secondly I happened to be sat next to a mother and child – and the mother had taken most of Toys R' Us on the bus leaving me little room. To be fair the child behaved… mostly. Colombian brats are far better behaved than British brats.
Did you not get any sleep?
As usual I didn't sleep a wink. Furthermore old feelings of anxiety began to bubble whilst sat in a 2h traffic jam at 2am. A traffic jam at 2am?! Who are all these people driving at 2am?! Where are they going?! Suddenly worries about Banditos jumping buses in the middle of the night whirred around in my head. I convinced myself the bus was going to be hijacked and we would all be raped and pillaged.
Luckily it was a genuine run of the mill traffic jam. I don't know why I always worry so much. I always end up surviving – anxiety, ey. 🤷🏻‍♀️
Finally I got to Cali safely and in one piece at 7am the following day, and slowly died by the pool in El Viajero Hostel until check-in at 2pm.
Amber's Top Things to do in Cali
#1 Learn how to Salsa!
This is non-negotiable – why else come to Cali? The people of Cali live and breathe salsa music. Many hostels are also salsa schools and will include 1 free communal salsa lesson a day – for example, El Viajero has daily free salsa classes for guests at 7pm. A private lesson is 40,000 Pesos for 1 hour but most schools do packages if you buy multiple classes. It is well worth the money – ya girl is a 'natural' 😏.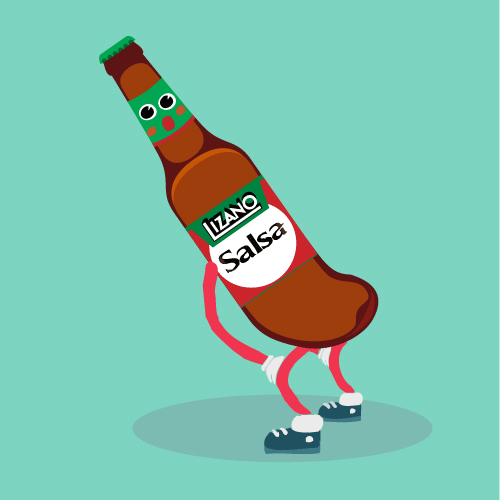 However I don't understand how Colombians can say salsa is not at all 'sexual' – my teacher was definitely gay, camp as a Christmas tree and had a face full of piercings. Not my usual type. Yet in a hot and sweaty room being spun around with A LOT of eye contact I could have snogged him.
#2 Cali Walking Tour
The walking tour was… meh, but free. This wasn't the fault of the tour guide – who was very enthusiastic – it was just there isn't much to really see in Cali. I went with Free Walking Tour Cali (inventive name, right?) who meets at Iglesia La Emrita every Monday – Saturday at 4pm. The tour lasts just under 2 hours.
If you have the money (not that 30,000 Pesos is a lot) I suggest splashing out on the Cali Street Food tour instead, who cover a lot of the same ground.
#3 Cali Street Food Tour
The Street Food Tour gives you a real a taste of Cali though their local foods produce. The tour is run by a lovely Dutch chap called Niels (lol someone else Dutch in Colombia what a surprise). Niels starts the tour with a little culture and street art in the San Antonio neighbourhood. We then visited local market and sampled a load of strange tropical fruits. 90% of them were awful and too sour (my tour filmed me gipping after some weird passion fruit) but here I discovered guanábana which tastes like bubble gum. It has become quite the staple to my South American diet since!
There were plenty of options for vegans/vegetarians (the avocado ice cream was to DIE for) and even though the tour costs 30,000 Pesos you can skip lunch because I promise you will a – be full and b- you'll definitely return to the market at a later date for lunch.
The tour leaves every Tuesday – Saturday at 11am, meeting at El Viajero hostel.
#4 Walk up Christo del Rey hill
I decided not to do this because that particular morning I was hung-over and El Viajero has a pool. Furthermore it is like a knockoff version of Christ The Redeemer in Rio, which I plan to visit.
What I will say though is if you decide to go, make sure you go in the morning. Before 1pm police patrol the area but they clearly decide to sack of work on their lunch break. What kind of police force calls it quits at 1pm? No wonder Cali is still the #28 most dangerous city in the world.

Anyway (before I digress further) a bloke ignored this and went hiking in the afternoon. He decided to get around this by only bringing with him 10,000 Pesos and leaving his valuables at home. He later returned to the hostel without any shoes – his Nike trainers had been stolen by muggers. Go before 1pm and in crappy trainers!!
#5 If the timing is right, head to a music festival!
There are a multitude of music themed festivals in Cali, of which you can find a timetable here. The two main ones are the Petronio Alvarez Pacific Music festival held in August every year, and Cali's yearly Salsa Showdown in September.
Petronio Alvarez Pacific Music Festival
This was absolutely brilliant, and a welcome change from all the salsa and reggaeton music that is so prevalent elsewhere in Cali (and the rest of Colombia). Cali has one of the largest populations of Afro-Colombians who were brought into Colombia as slaves during the 16th century. The Petronio Alvarez music festival celebrates the music and culture of the Afro-Colombians and was filled with African food (although none vegetarian/vegan friendly), African booze (including this weird yogurt-aguadiente mix some woman forced on me 🤮) and a market selling traditional African fare. The festival was huge, extremely crowded and consisted of 2 large stages. My favourite moment was being taught how to twerk by a huge group of African-Colombian men whilst these Israelis filmed me. Maybe I'm now a YouTube hit in Israel. 💅🏽
Nightlife in Cali 💃🏻
A quick note on nightlife: on our walking tour with Niels we learned that 1 person dies every day on the outskirts of Cali. Cali also ranks as #28 most dangerous city in the world (sorry Mum). Basically Cali is not safe especially at night so do be vigilant. My visit was trouble free but I met a lot of backpackers in El Viajero who had been mugged. Always carry ID, ladies – put some Pesos in your bra or your shoe over taking your fancy wallet and consider keeping your phone in the safe. Take taxis everywhere, even if it is only a few blocks away, and always stick in a big group. 🤟🏻
Go to Salsa Club (La Topa Tolondra)
If you can't find a salsa club in Cali, you're not looking very hard (i.e. about as hard as when you ask a man to look for something). Salsa is ubiquitous in Cali –  you'll hear it played everywhere, from the local mercados to the suburbs in the hills. Most locals probably came from the womb already a professional salsa dancer but in La Topa Tolondra there were enough other gringos stumbling about on the dance floor to make me feel less self conscious. La Topa is within walking distance from the majority of hostels and was packed when I went, so lots of sweaty people brushed against me as I boogied away.
There was a cute backpacker from Holland (Mum: "was he 6'2 with eyes of blue") the night I went to La Topa. His name wasn't ridiculous (looking at you, Floor) so I thought chatting to him would be safe. It was not. Cue Amber's horrific flirting:
Me: "If you could be a crisp, what crisp would you be?"
HB: "Oh I dunno really, I'm not really into crisps," – I should have walked away then because what sort of psychopath doesn't like crisps – "what would you be?"
Me: (after some thought) "Doritos."
HB: "Cool!"
I could have stopped there. I really could have done. I continued.
"I'd be Doritos in the Tangy Cheese flavour."
HB: "Tangy Cheese? Why?"
"Because I'm quite cheesy, I smile a lot and I know a lot of lame jokes!"
I really SHOULD have stopped there. But after a few drinks I get something called verbal diarrhoea…
"I'd also probably taste nice dipped in guacamole."
🤦🏻‍♀️ – the poor guy awkwardly looked into his drink 😂. It didn't put him off too much he did let me practice my newly acquired salsa skills on him! There is also Tin Tin Deo which is apparently a good spot for learners – locals surround the dance floor eager to help gringos stumbling about. Zaperoco is the most famous salsa club in Cali and has live music on a Thursday. I instead went to Espacio 10-60 and almost had my toe smashed in by a 6ft German.
Espacio 10-60
A pretty cool place if you're sick of salsa and reggaeton; they tend to play a mix of different music such as hip hop and R&B. Who doesn't love a cheeky boogie to Ashanti? The club has an almost 'secretive' vibe with entry via a simple black door that leads onto a rooftop. There is a massive outdoor smoking area where backpackers and locals congregate to swap both stories and cigarettes. You get a free drink but it is absolutely terrible – most of us chucked ours away. Not worth the calories!
I had fun here until a massive German girl jumped onto my feet. She jumped so hard the top of my toenail broke off! I was gutted as my manicure from Medellín was holding up so well. I screamed (partially in pain, partially in annoyance) and she turned around and simply said "I didn't see you zehr, I zink you are too short." ???? You're in Colombia most people are short????
Eating in Cali (as a Vegetarian/Vegan) 🥦
One thing I loved about about San Antonio was the sheer ABUNDANCE of vegetarian food. It was so easy for me to eat cheaply – looking at you El Poblado and Cartagena – and most restaurants can be veganize their dishes. I ate at the below restaurants during my time in Cali; I also picked up some street food at the Petronio Alvarez festival but only the BBQ-ed corn was vegetarian/vegan friendly and it was crap – dead crunchy.

Trattoria and Chef Burger also have good reputations if you have more time to explore eateries in Cali.
PAO
PAO caters to meat eaters but has plenty of vegetarian and vegan options. We opted for the deal where you can get 4 vegetarian/vegan burgers for 12,000 Pesos each. The burgers are either made of lentils or chickpeas and come with fries and a fresh salad, which is a novelty. I had never been so excited to see lettuce after weeks of fried food! The burgers aren't overly big so I'd suggest it more for lunch or a light dinner.
El Buen Alimentos
A very popular lunch spot 2 minutes walk from El Viajero hostel. Their menu del dia is great value (11,000 Pesos for 2 courses) and can easily be veganised. My friends and I from the hostel opted for burger deal – 2 for 23,000 Pesos. Definitely get the Cajun style potatoes. The breakfast is average but quick if you're in a rush – I recommend the 'ham' and cheese breakfast sandwich.
Padma House
Padma House is the cutest little café with a warm and welcoming service and a great value breakfast. If you go make sure you sit in the outside courtyard; the tables are swings and most of the furniture is re-purposed. There are two vegetarian options – both eggs – but the highlight for me was the Milo cake and hot chocolate.

The WiFi was pretty good – decent enough for me to FaceTime my mum and wave at Barnaby although he did look pretty pixilated. Bless him.
The Empanada place
A group of Israeli's I'd met in El Viajero discovered this place. They do a range of cheap empanadas and arepas for around 5,000 – 10,000 Pesos depending on size and filling. They even do dessert empanadas!
The majority of the menu is vegetarian, although there are meat empanadas. They did have two vegan empanadas – one called 'The Vegan' and one called 'Palestina Libre' (Free Palestine). Palestina Libre sounded delicious (falafel, hummus, tahini etc) but it was too awkward to order in front of the Israeli's. When they noticed the empanada on the menu the atmosphere became really tense. I just ordered the other empanada to avoid any upset.
I think it is poor to name an empanada Palestina Libre. Really poor. Colombia has many Israeli tourists; probably the second most common I've met after the Dutch. No matter where your stance on the Isreal-Palestine conflict, why try and alienate potential visitors? Why bring politics into empanadas?
Yala Comida Árabe
Having falafel was a complete novelty in Cali – mainly because the falafel place in Palomino was shut, and we bailed on a falafel place in Medellín because it was overpriced. I recommend getting a hummus starter to share as it is HUGE – bigger than the pool at El Viajero. I had the vegan falafel wrap; it contained 10 balls of falafel in alongside spicy sauce and salad.

I went here with a big group including a German who was in Colombia illegally. He passed the border via Ecuador without getting his passport stamped. He then had the audacity to rant awkwardly (baring in mind we were in an Arabic restaurant probably owned by Muslims) about Syrian refugees in Leipzig. Mate. You. Are. Currently. An. Illegal. Immigrant. 🤬
Macondo Café
The food here looked a bit average but the best thing about Macondo is the coffee themed cocktails and cake. Macondo serves up cocktails which are the closest thing you'll get to an espresso martini – a drink I normally bathe myself in after work in London. Why is cake in a bar not a normal thing? People of Cali: you need to bring cake to bars in London. People of London: we need to work collectively as a team to make espresso martinis a thing worldwide.
Where to stay in Cali? 🏨
Most hostels are situated in the San Antonio neighborhood. It's a an old, historic neighborhood filled with some of the cities best restaurants. The streets are small and hilly, making it attractive to skateboarders (usually high and rather irritating to dodge on the way back to the hostel). Some hostels are also situated in Granada and in Parque del Perro but most backpackers who had to move elsewhere complained about being away from the action.
El Viajero
I stayed here for the majority of my time in Cali. The main draw for me was the swimming pool; a sight for sore eyes (and head) when hung-over in 27°C heat. Breakfast is… meh (but free, a bit like the walking tour). However they have BLACK TEA WITH MILK. British people pay attention – this is a complete novelty in all of Colombia. It is no Yorkshire Gold, but I'd have even gone for Tesco's basic tea and UHT milk at this point.

The 8-bed and 6-bed dorms are significantly nicer than the 10-bed dorms (I had to move halfway) so just pay the extra 2,000 Pesos a night.

The main drawback to this place was 1 – it is pricier than other hostels and 2 – the staff are completely charmless and inflexible. They locked my bag in storage and were funny about getting it out until check-in at 2pm meaning I chilled by the pool in jeans and hiking boots (remember how I told you night buses are freezing in Colombia 👁).
La Maison Violette
La Maison Violette was recommended to me in Lonely Planet. I was bitterly disappointed (usually I treat Lonely Planet like the Talmud) as the rooms were cramped and uncomfortable, there was no breakfast included and the hostel wasn't very sociable – other than a collection of weird French guys smoking weed and watching The Simpsons dubbed in Spanish (Bart just isn't Bart with a Mexican accent). I stayed here for 1 night.

The main positives of La Maison Violette was a – it is cheap and b – the rooftop. The views over San Antonio at sunset are stunning!
Despite being #28 most dangerous city I'd like to come to Cali and dance my socks off! How do I get there? ✈️ 🚌
Cali has its own a airport- Alfonso Bonilla Aragón International Airport – which can be reached by domestic flights and by international flights from Panama, Ecuador, Peru, and the USA. From the airport, visitors can take a taxi into the city for 50,000 Pesos. An UBER is the same price (but illegal, s).o sit in the front if you order one so you can pretend to the cops you're mates with the driver).
A bus to Cali from Bogotá or Medellín is about 55,000 Pesos and takes around 8-10 hours. A taxi from the bus terminal to San Antonio is then another 5,000 Pesos.